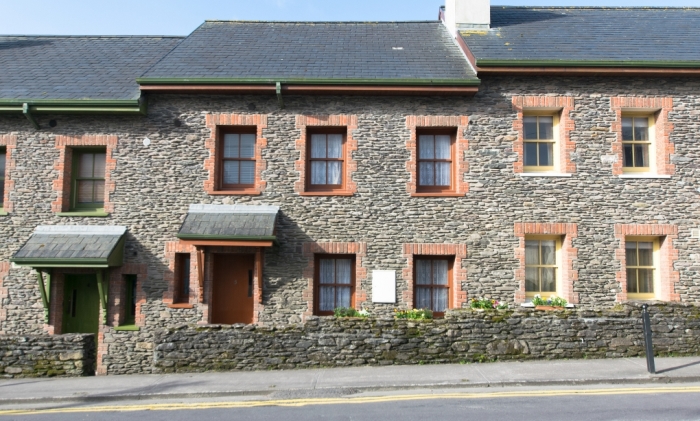 Burnham View is perfectly located to enjoy a stay in Dingle. It is on the edge of town and so whilst in a quiet location everything that Dingle has to offer is within walking distance. It sleeps up to 8 people in four bedrooms, three of which are double and one is a twin. The Master Bedroom and Bedroom 2 both enjoy en-suite shower rooms and there is also a further house bathroom.
Burnham View is a modern property built in a traditional style and is comfortably furnished throughout. The cosy sitting room with a real fire is a great place to unwind after a busy day exploring. When the weather is good, the enclosed rear patio garden is a great place to sit with a bottle of wine and enjoy the afternoon and evening sunshine.
The well equipped kitchen has everything you might need for a self-catering holiday. Dingle town is a short walk away where there are supermarkets, butchers, bakers and a wide range of other shops. The many delightful gift shops will be sure to have something for you to take home as a souvenir of your stay on the Dingle Peninsula.
Dingle is renowned for the quality and choice of restaurants, there is something for everyone with top class, award winning establishments through to informal Café's which offers great value for families. There is also a range of takeaways in the town.
Of course Dingle is also renowned for its pubs and live music. No trip to Dingle would be complete without a pint or two at O'Sullivan's Courthouse pub, where in an evening you will be treated to a session with some of the finest traditional musicians in Ireland. Sundays through the season they also have a late afternoon session, ideal if you have youngsters. There is always a great choice of music in Dingle and many of the pubs are unchanged since they were first opened many years ago.
There is so much to do and see on the peninsula that it would take a small book to cover everything! For your easy reference, please have a look at the page, where you will find a list of the major and more interesting things to see and do. Wherever possible we have included a link to their website or Facebook page so you may see up-to-date contact information current details of opening times.
Whilst we are on the subject of Facebook, check out the Dingle What's On page for up-to-the-minute information on what's happening in and around Dingle and don't forget to "like" our Facebook page. National Geographic described the Dingle Peninsula as the most beautiful place on earth, it has also been cited as the most photogenic place in the world! You're sure to take lots of photographs during your stay here so please do share them on our Facebook page.  If Twitter is your thing, please do tweet them to us (@DingleVacation), or if you prefer tag us on Flicker (Dingle Holiday Homes). We'd love to see them.