Local Attractions
The Dingle Peninsula has a wealth of attractions and activities that you are sure to enjoy, there really is something for everyone. The stunning scenery is ideal for cyclists and walkers, or for touring in a car, there are so many things to stop and see while you are exploring, you'll find a week passes in the blink of an eye. Both Beachmount House and Burnham view are ideally located and equipped for people enjoying a cycling or walking holiday.
For a peaceful day out and a glimpse into the past, take a boat ride out to the Blasket Islands. Great Blasket was last inhabited in 1953 and has remained largely unchanged since. Take a day to enjoy the boat ride and spend time enjoying the peace and tranquillity. Based in either of our beautiful holiday homes, Killarney and the Ring of Kerry are both within easy travelling distance by car. The stunning beaches that were such dramatic locations in the iconic film Ryan's Daughter are only a few short miles away and the remains of the Schoolhouse still sit near the cliff top.
Whether you enjoy surfing, fishing, scuba diving, horse riding or golfing, we've got it all, and more besides! The list below will no doubt give you plenty of ideas and the Tourist Office at the harbour end of the pier in Dingle town will give you more. Click on the links for more information.
www.facebook.com/dinglewhatson
Activities
Watersports & Excursions
Dingle Boatmen's Association comprises 6 passenger boats (fully licensed by the Department of the Marine and manned by experienced and qualified crews). The boats leave Dingle Pier at regular intervals during the day, every day, all year round (weather permitting).
Dingle Oceanworld Aquarium has Ireland's largest collection of Sharks as well as a Gentoo Penguin display. Experience this enchanting underwater world.
See where Star Wars was filmed on the Skellig Islands in County Kerry. Director J.J. Abrams himself expressed shock that they were allowed to film in such an incredible area; "I can't believe they let us shoot there, it was so beautiful, I felt the standard had to be authenticity, the standard had to be reality." An easy drive amongst spectacular scenery, taking in a section of the Ring of Kerry, a very popular day trip.
Blasket Islands
The most thrilling way to see Dingle Bay; experience the outstanding natural beauty of the Dingle coastline, paired with an exciting speed boat blast.
Fishing
Golf
Archaeological Sites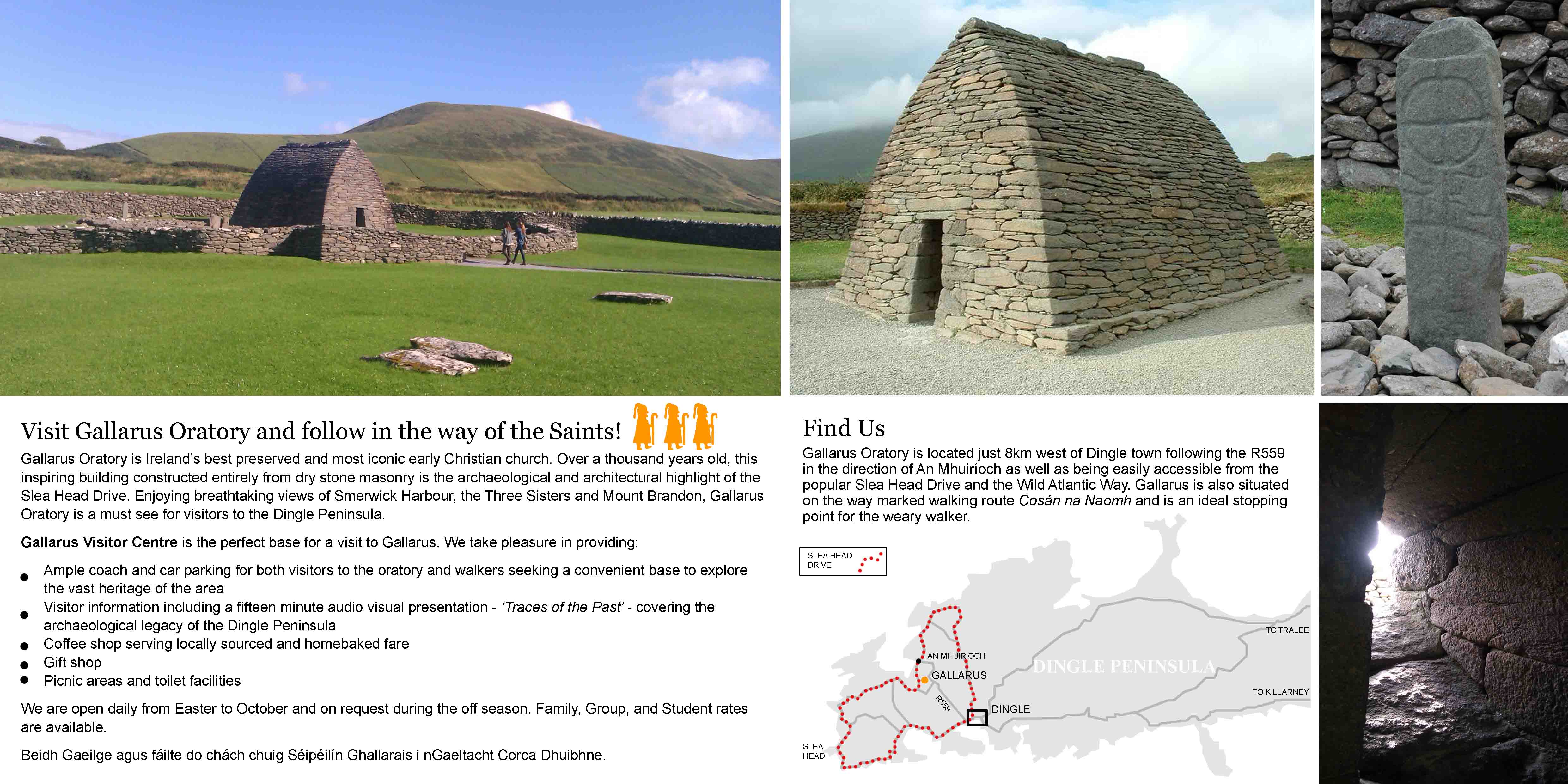 Gallarus Oratory is an early Christian site of unknown age but most likely to have been constructed between the 7th and 12th centuries. Situated to the south-east of Smerwick Harbour on the western end of the Dingle Peninsula, Gallarus Oratory is one of the few remaining churches of this type to survive intact today.
Miscellaneous
West Kerry Museum (Músaem Chorca Dhuibhne) is situated in the old schoolhouse in Ballyferriter (Baile an Fheirtéaraigh) 8 miles west of the fishing port of Dingle (An Daingean), at the west of the Dingle Peninsula, Co. Kerry, which is in the beautiful south-west of Ireland. In the museum you can learn about the geology, archaeology and history of the area.
Play At Height Climbing Wall & Adventure Centre , Dingle , Co Kerry . Rock Climbing , Paintball , Ziplines , High Ropes - Fun for all the family in Dingle
View the very best Irish hand-made craft Pottery in exquisite fine porcelain and robust stoneware designed by Louis Mulcahy
Scenery
The Slea Head Drive is a circular route, beginning and ending in Dingle, that takes in a large number of attractions and stunning views on the western end of the peninsula. The route is clearly labelled by road signs throughout its length. (stop off at <a href="http://www.tigaine.com/">Tig Aine</a> for refreshments)
The Conor Pass is the highest mountain pass in Ireland. It is situated on the Dingle Peninsula in County Kerry, on the road that crosses the peninsula between Dingle Town and the coast the other side.
You can't say you've been in Annacaul until you've visited the lake that's nestled in the mountains overlooking the valley. This is an area rich in history and mythology and never fails to inspire the creative mind. The river and lake have stocks of trout for those partial to a little fishing, and the lake road and mountains are popular with both serious and amateur walkers alike.
Beaches
Ventry
Coumeenole (one of the locations for the film Ryan's Daughter)
Inch (one of the locations for the film Ryan's Daughter)
Wine Strand
Clogher
Minard
Kinard
Fermoyle
Maherees
Pubs and Bars
There's a great choice of pubs in Dingle and you're sure to find at least one that you fall in love with. Many of the pubs feature local musicians performing traditional Irish tunes on a variety of instruments, but on a summers evening you'll find the music has such a draw that the audience could be from the United Nations! With many visitors from Ireland, England, America, Germany, France, Italy, Holland, Australia and beyond, you're in good company and will quickly get talking with visitors and locals alike in one of the friendly pubs. The Below is a short list of some of the more popular and traditional pubs.
Pubs and Bars
O'Sullivans Courthouse Pub is a traditional pub with traditional Irish music located in Dingle, County Kerry, Ireland. "Our favourite bar for traditional Irish music with sessions every evening and early sessions at the weekend through the season."
Traditional Irish music every night.
(the Small Bridge) Traditional Irish music every night, with late sessions most nights through the season.
O'Flahertys traditional Irish music bar in Dingle. Music and ballad sessions in the pub are plentiful and visiting musicians are welcome
Restaurants and Food
Dingle was voted the Foodie town of Ireland in 2014 Many of the local restaurants are award winners in their own right and rank among the best places in Ireland to eat. Being on the coast it's no surprise there is a lot of local seafood to choose from, but local lamb and beef is also excellent and widely available. Below is a selection from some of the many restaurants in and around the town. Many tourists have visited the town and fallen so in love they stayed! Some have found success as chefs and you will find restaurants with chefs that use local produce but prepare the food with perhaps a French, Italian or even American influence.
Restaurants and Food
Fenton's Restaurant Dingle is a long-established family run business managed by Patricia Fenton in Green Street in the heart of Dingle.
Looking for a restaurant in Dingle? The Chart House restaurant is Dingle's world renowned great value award winning restaurant.
An Canteen restaurant in Dingle, Distinctive dishes prepared with care from the finest and freshest local ingredients
Voted the best emerging Irish cuisine in 2014 and the best restaurant in Kerry in 2013. This Michelin recommended Dingle restaurant serves fresh fish seafood and meat with vegetables from own garden
The Half Door Restaurant, is a family run business, specialising in seafood, along with certain meats and vegetarian options.
Dingle Diner Family Restaurant - the holy ground, Dingle Town Centre, just beside the the friday market. Family run cheap restaurant in the heart of Dingle town centre. Dingle Diner family Restaurant - Places to dine in Dingle
Local Festivals
January
February
Information on Dingle Walking Festival 2015- Eolas faoi fhéile 2015 February 13th/14th & 15th
March
Voted Top 25 Can't Miss Events in The World by Animation Magazine
Welcome to the Dingle Peninsula , County Kerry in the Southwest of Ireland on St. Patrick's Day
April
Féile na Bealtaine aspires to build on the rich tradition of arts and culture that exists on the Dingle peninsula and to extend and broaden our artistic horizons – above all Féile hopes to entertain and to invigorate.
May
ingle Women's Mini Marathon: Saturday 16th May. Supporting The National Breast Cancer Research Initiative, Pobalscoil Chorca Dhuibhne & Liam's Lodge.
June
Multi Activity Adventure Race consisting of 3 course options, DAR, DAR Sport and DAR Mini. Each course has Bike, Hike, Run & Kayak legs. The 30 ml/48km DAR course on the Dingle peninsula. Bike the Conor Pass, hike Mt Brandon, run the country roads and kayak Dingle Harbour. DAR Sport includes kayak Dingle, Bike Slea Head, Hike Mt Eagle and bike back to Dingle. DAR Mini has kayak, bike to Ventry, Run Ventry before bike back to Dingle.
Féile an Phráta (the Potato Festival) celebrates the importance of the humble potato or 'spud' in the diet and lives of the people of Íarthar Dhuibhne (West Kerry).
July
The West Kerry Agricultural Show takes place annually at the Dingle Mart Grounds.
Regatta Fionn Tra is a community festival which takes place in Ventry, Co. Kerry on July 29th 2018, very suitable for families
August
Ireland's Largest and Best Horse & Pony Meeting Every year in August, the field at Ballintaggart changes into an enormous racetrack filled with horses, jockeys and horse racing enthusiasts from all over Ireland and the rest of the world. No less than 20 races are held with a total prize fund of €40,000! Don't miss the 2016 edition and make sure you are at the Ballintaggart Racecourse in the weekend of 5th, 6th and 7th August 2016.
"August Bank Holiday in Annascaul is Beerfest Bank Holiday" ANNASCAUL , Co. KERRY – The community and publicans of Annascaul, Co. Kerry are inviting all to the annual Annascaul Beerfest which will is held in the village on August Bank Holiday Weekend. Supporting Down Syndrome Kerry
Choose between a 7km walk/run and a 10km run amongst some of the most beautiful scenery in Ireland. One kilometre of the course runs across Béal Bán beach. Good warm up for the Dingle marathon in September.
September
The festival provides a platform for both National and Internationally acclaimed performing artists to showcase modern and original talents within the usually more traditional environment that is the Dingle Peninsula.
A unique and stunning event based in world famous Dingle, County Kerry, Ireland
October
Dingle Peninsula Food Festival welcomes you to Kerry's premier food festival held annually in the first weekend of October
Our annual walking festival takes place every October bank holiday weekend including various walks on the Dingle Peninsula. Keep an eye on our walking club website for updates on the festival and walking in the area in general.
November
December
The fires of tradition burned brightly in Dingle on Friday as Wrens Day burst into life on the streets of the town.